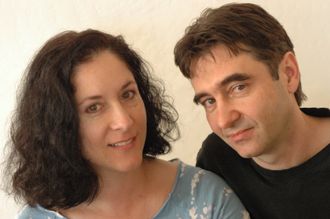 ilymusic was created by Los Angeles based prize-winning musician/author/composers, Frederic Michot and Adriana Zoppo to offer a more creative and friendly alternative to the commercially mass produced music.
We focus on Quality and Artistry. Like the artisanal baker who handcrafts each loaf of bread with love and care, using only the best quality essential ingredients.

Our unique music, composed from the heart, will fill your Body, Mind & Soul with wellness and wellbeing. For all ages, starting from the newly born, our music will inspire and uplift, from Alternative to Relaxing, intimate, romantic and whimsical.
We each have many years of professional experience in music as prizewinning composers/songwriters, performers and teachers:
Song for film selected for the prestigious Cannes Film Festival, prizewinner Songwriting Competition, prize for Best Original Music Score at International Short Film Festival, winner B.H. Consortium of Southern California Chamber Music Presenters, synthesizer programmer and specialist in vintage synthesizers (Synclavier 9600 DTD, Fairlight IIX & III, Moog etc.), musician for films released in major theaters and for Broadway shows, recordings and concerts for internationally known artists in the U.S. and France, pioneer in music therapy (France), Collection d'or Award for music collection for children, distributed by Polygram and Universal Music, Magical Instruments Collection of educational and relaxing music for children distributed by Warner Music used at schools in France and the U.S.
Our music for children has been tested by daycares, pre-schools, pediatricians, and parents. 
They all say this music is soothing for babies and young children and is a very effective aid to falling asleep. 
It has quickly become their favorite music for nap time, bedtime, relaxing, requested by the children as well...
Frederic Michot - Rawson 
Composer, Author, Arranger 
Main instrument : Synthesizer Programmer 
other instruments  : Drumset, Guitar, Bass, Piano 
Prize Winning Music Composer, Prize Winning Songwriter 
​ Frederic Michot composed and produced the song: "As de coeur" Lyrics by Violaine Dumoulin, Violin soloist Adriana Zoppo. Song used in the movie called "Grigris" selected to compete for the Palme D'OR at the prestigious 2013 Cannes Film Festival. Vulcan Award Winner. The song was used in a major scene of the movie. The movie, "Grigris", was released in the US in 2015. 
Frederic Michot worked for many years as a Freelance Synthesizer music programmer for famous French singers and bands : 
Isabelle Adjani, Bernard Lavilliers, Claude Nougaro, Catherine Lara, Patrick Juvet, Elysabeth Caumont, Amina, Enzo-Enzo, Marie Laforet, Isabelle Mayereau, Edith Lefel, Kassav and much more… 
In the 90s, he became artistic and technical manager of "Paris Paris Studio" for an independent production company. He is then in charge of the Synclavier 9600 DTD full options. The biggest music computer system in Europe. Many music projects were produced, as well as commercials, with famous directors, such as Jean-Paul Goude and Jean-Baptiste Mondino. 
Frederic Michot is also specialized in programming vintage synthesizers such as: Fairlight IIX, Fairlight series III, Moog, Prophet, Oberheim, Yamaha, Roland, Korg, etc. 
Frederic Michot won the FNAC Record Company Songwriting Competition (France). For the two songs: « Il faut parler d'amour » and « Le plus grand des funambules » 
He also composed the music score for a short film called: « Les Vagabonds », and won the only Prize for Best Original Music Score given at the International  "Sens Short Film Festival" (France.) 
Frederic Michot composed a concept album called:  Mystery of Creation (mystere de la Creation) Endorsed by the famous grand couturier Pierre Cardin. 
He produced, arranged and performed a collection of CDs for children distributed by Polygram and Universal Music. The collection won the "Collection d'or" (Golden Collection) award, and also produced and arranged in collaboration with Adriana Zoppo a collection of educational music CDs for children distributed by Warner Music. 
In total, Frederic Michot's discography is more than twenty albums, short films music scores, documentary music, and more than one hundred pieces of music published and registred at the SACEM (France). 
Since 2003, Frederic Michot lives in Los Angeles, and continues to compose and produce music in collaboration with Adriana Zoppo, under the name: "AllDayNight." 
​ Adriana Zoppo and Frederic Michot also created a music label called: "ilymusic" to release their own music creations (www.ilymusic.com)
Adriana Zoppo 
​ Musician, Composer 
Main instrument: Violin 
Other instruments: Viola, Baroque Violin, Viola d'Amore, Electric Violin, Keyboards 
Winner: Beverly Hills Auditions of the Consortium of Southern California Chamber Music Presenters. 
Adriana Zoppo performs on violin, viola, baroque violin, baroque viola, and the unusual and rarely heard viola d'amore. She has played regularly for film, TV (American Idol, Mad Men etc.), video games, solo artist recordings, Broadway musicals (Lion King, American in Paris, Hamilton-L.A. premiere etc.), the Kingdom Hearts and Final Fantasy Symphonic concerts and live shows of all musical styles and genres. 
As Director of the Glendale Noon Concerts' early music sub-series Adriana plays in and coordinates chamber music concerts featuring music on original instruments. 
​She also plays with the Santa Barbara, New West, Pacific Symphonies and Long Beach Opera and Symphony, St. Matthew Chamber Orchestra, Musica Angelica Baroque Orchestra, Los Angeles Baroque Players, Bach Collegium San Diego and the Corona del Mar Baroque Festival and with many other symphonic and chamber groups in the Southern California area. 
Adriana has recorded or concertized with artists Stevie Wonder, Andrea Bocelli, James Brown, Page and Plant (Led Zeppelin) Ray Charles, Josh Grodin, Madonna, Ricky Martin, Johnny Mathis, Charlie Haden, Glenn Frey, Aretha Franklin, Diana Krall, Neil Young, Pat Benatar, Counting Crows, Garth Brooks, Carrie Underwood, Frank Ocean and many others at Capitol Records, MGM, Warner Brothers, Paramount and Fox Studios, at the Schubert, Ahmanson, Pantages and  Greek Theaters and the Hollywood Bowl, Dolby Theater, Music Center and Disney Hall in Los Angeles.